what is SmartCash Transact
A low-cost digital payment platform that provides basic banking services to local communities.
Through the SmartCash Transact Platform, 3rd Party businesses are able to collect and manage monthly payments from their members.
Additionally, SmartCash Transact enables local retailers to accept payments on behalf of 3rd party service providers, as well as enabling retailers to sell a variety of financial products such as prepaid vouchers and cryptocurrency.
Read More
SmartCash Transact
Services
Enabling financial inclusion
Our Footprint
We empower informal and formal merchants to facilitate payments using mobile technology
| | |
| --- | --- |
| Insitutions | 271 |
| Merchants | 386 |
| Users | 144070 |
| Acceptable Currency | ZAR, BTC |

South African Rand

Bitcoin
Milestones
The Journey
Our vision is to revolutionalise payments. We are passionate about pioneering real financial inclusion.
Concept
Conceptualise a cardless transacting plaform that allows customers to pay for goods and services, send and receive money at the merchant using pin and or fingerprint
Research & Development
Research and development of a low cost payment platform for township and rural ecomonies.
Filing of patent for a cardless payment system, method and device.
The launch
The launch of a money tranfer service in Soweto Diepkloof.
Obtained a Patent( PT000639ZA 201702505 ) for a cardless payment system, method and device
Additional Features
Payment collections, Merchant Service Facility, Prepaids & Vouchers, Local and Global Airtime
Enabled contactless fingerprint authentication, Crypto Currency Exchange Service and Mobile Wallet Service
Download our Mobile App
Download our mobile app
Download our mobile app to begin facilitating payments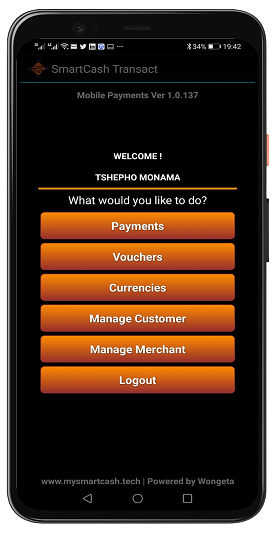 Accept Payments

Accept cash and mobile payments from your customers.

Sell Prepaids & Vouchers

Sell airtime locally and globally.

Sell & Buy Crypto Currency

Facilitate the purchase and exchange of CryptoCurrency such as Bitcoin and Ethereum to you customers
FAQs
Frequently Asked Questions
Yes, we support both local and global currencies.

We support both cash and digital payment methods such as cryptos and mobile money wallets

Our services range from Merchant Facilities, Payment Collections, Crypto Exchange, Money Tranfers and Prepaid Vouchers

Get advice from our experts
Get Started