SmartCash Transact
Services
Why Choose SmartCash Transact?
Why Choose Us?
Cloud based platform hosted on Microsoft Azure for high availability and scalability.
Low Cost Platform

Patented Technology (PT000639ZA)

Convenient & Easily Accesible

Support both Fiat and Crypto Currencies​

Safe & Secured Platform

Trusted Identification using ID or Mobile number

Reliable biometrics fingerprint technology

One-time Password (OTP) verification

Highly Scalable & Interoperable

Interconnected switch for payment gateways, mobile money and digital wallets.
Download our Mobile App
Download our mobile app
Download our mobile app to begin facilitating payments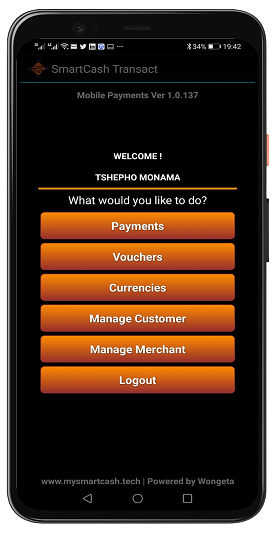 Accept Payments

Accept cash and mobile payments from your customers.

Sell Prepaids & Vouchers

Sell airtime locally and globally.

Sell & Buy Crypto Currency

Facilitate the purchase and exchange of CryptoCurrency such as Bitcoin and Ethereum to you customers